Melbourne Drug Crimes Lawyer
Fighting Possession, Manufacture, Distribution, & Trafficking Charges in Florida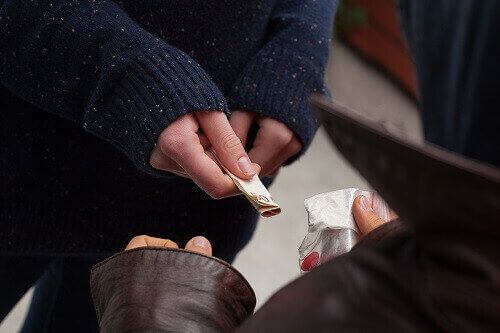 Facing a drug charge is a frightening and overwhelming experience. Your freedom is in jeopardy, so it is important to ensure that your rights are protected at every stage of the process. Be sure to review your Miranda Rights and contact a drug charges attorney before speaking with the police. At Funk, Szachacz & Diamond, our Melbourne drug crimes lawyers are all Board Certified lawyers.
Are you facing a drug charge? Call Funk, Szachacz & Diamond today at (321) 360-4446 or contact us online to schedule a meeting with our Melbourne drug crime lawyer!
Florida Drug Crimes
In Florida, drug crimes include possession, manufacture, cultivation, distribution, or trafficking of a controlled substance. This may include illegal drugs, such as marijuana, cocaine, methamphetamines, or heroin, or prescription drugs, such as painkillers, without a valid prescription.
Drug charges, such as:
Drug Possession – Drug possession is a charge that involves possession of a drug for personal use. The person did not manufacture, distribute, or sell the substance. Possession may be a misdemeanor or felony charge, depending on the amount, type of drug, and other factors.

Drug Manufacturing & Cultivation – People may be charged with manufacturing illegal drugs, such as methamphetamine or cultivation for illegally growing marijuana. Involvement in any part of the production process could result in felony charges.

Drug Trafficking & Distribution – The specific charges depends on the type and amount of drug. For a minor offense, possession with an intent to sell may be a misdemeanor charge. However, this could also be a felony charge, depending on the circumstances. Drug trafficking is a first-degree felony.
The possible penalties for conviction depend on the type of drug, the specific charges, any prior convictions, and other factors. If convicted, you could face large fines, mandatory treatment, and jail or prison terms. In some situations, mandatory minimum sentences may apply.
What Is the Mandatory Minimum Sentence for Drug Possession in Florida?
In Florida, the penalties for drug possession vary depending on the amount of drugs that were in your possession:
First Degree Misdemeanor Possession: the penalty for this charge is up to one year in jail plus court costs
Third Degree Felony Possession: the penalty for this charge is up to five years in prison
First Degree Felony: the penalty for this charge is up to 30 years in prison and up to $250,000 in fines
Our Melbourne drug crimes attorneys provide legal representation for all types of felony and misdemeanor drug crimes. There are a number of possible defenses for drug crimes. Our Board Certified attorneys work together on every case. You can count on them to defend your drug charges. We can investigate your case to prepare the most effective defense with the highest level of professionalism and ethical standards.
Indirect Consequences of A Drug Charge In Florida
A drug charge in Florida can have a wide range of indirect consequences, in addition to the immediate legal penalties. These indirect consequences can impact various aspects of your life, including your personal, professional, and financial well-being. Here are some common indirect consequences of a drug charge in Florida:
Criminal Record: A drug conviction can result in a permanent criminal record. This record can affect your ability to find employment, housing, or even obtain loans or scholarships in the future.
Employment: Having a drug conviction on your record can make it difficult to secure employment, especially in fields that require background checks or involve sensitive information. Some employers may have policies against hiring individuals with drug convictions.
Professional Licenses: If you hold a professional license (e.g., nursing, teaching, or legal), a drug conviction can jeopardize your license or lead to disciplinary actions by the licensing board.
Financial Aid and Scholarships: Drug convictions can make you ineligible for federal student aid, including grants, loans, and work-study programs. This can impact your ability to pursue higher education.
Housing: Landlords often conduct background checks on prospective tenants, and a drug conviction can make it challenging to find suitable housing. You may be denied housing or face restrictions on where you can live.
Child Custody and Family Matters: A drug conviction can influence child custody decisions in family court if it is deemed to be against the best interests of the child. It can also affect divorce proceedings and visitation rights.
Immigration Status: Non-U.S. citizens, including green card holders and visa holders, may face immigration consequences from a drug conviction. It could result in deportation, visa revocation, or denial of future immigration benefits.
Voting Rights: In Florida, individuals with felony drug convictions lose their right to vote until their rights are restored, which may require a lengthy waiting period.
Social Stigma: A drug conviction can carry social stigma and affect personal relationships, as friends and family may perceive you differently.
Insurance: Some insurance companies may raise your premiums or deny coverage based on a drug conviction, especially if it is related to driving under the influence (DUI) or other criminal activities.
Driver's License Suspension: In some drug-related cases, your driver's license may be suspended. This can disrupt your daily life and make it difficult to commute to work or fulfill other responsibilities.
Future Criminal Charges: Having a prior drug conviction can result in more severe penalties if you are charged with a drug-related offense in the future.
It's important to note that the specific consequences can vary depending on the nature of the drug charge, your criminal history, and other factors. To minimize these indirect consequences and protect your rights, it's essential to consult with an experienced drug crime defense attorney who can provide legal advice and represent your interests in court. Additionally, legal options, such as diversion programs or expungement, may be available to mitigate some of these consequences.