Melbourne Firearm Crimes Attorneys
Representation in Florida Gun Crimes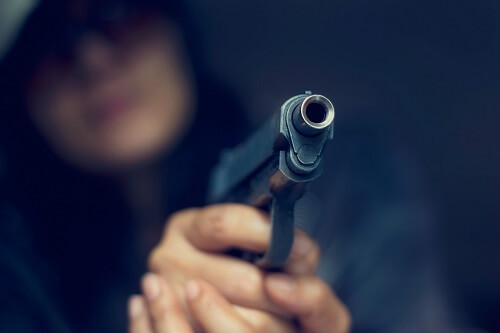 Under Florida law, most firearm crimes are felonies. Often, a firearm charge is associated with another criminal charge, such as aggravated assault, aggravated battery, robbery, murder, or other charges.
We represent clients charged with firearm crimes, such as:
Unlawful possession of a firearm
Carrying a concealed weapon
Unlawful purchase or sale of firearms
Possession of an illegal weapon
Possession of a firearm in the commission of a crime (e.g., robbery with a firearm)
Brandishing a firearm
Unlawful discharge of a firearm
At Funk, Szachacz & Diamond, our firearm crimes lawyers in Melbourne are all Florida Bar Board Certified attorneys with extensive experience in criminal defense cases. We can protect your rights in a firearms case.
If you have been charged with a firearm crime, call (321) 360-4446 to discuss your case with an attorney.
Understanding Florida Gun Laws
In Florida, everyone who purchases a legal firearm must be 21 years or older. While long guns may be purchased by an individuals of any state in the United States, as long as the gun complies with laws in their home state, handguns may only be purchased by residents of Florida.
There is also no limit to the amount of guns purchased in a single transaction. However, all gun purchases are subject to background checks and a waiting period.
Waiting Period for Firearm Purchases in Florida
The state of Florida requires a 3 day mandatory waiting period upon the purchase or delivery of a firearm. This does not include weekends or holidays.
However, there are exceptions to this rule, as the following instances do not need to adhere to the waiting period:
The firearm is being bought by an individual with a concealed weapons permit
The firearm is being traded
The person has successfully completed a hunter safety course spanning 16 hours, and has the safety certificate with it
The shotgun or rifle is being bought by someone in law enforcement
Florida Gun Crime Penalties
Florida has mandatory minimum sentences under the state's 10-20-Life law.
If a firearm is brandished during the commission of a crime, the defendant may face a mandatory minimum sentence of 10 years.
When the firearm is discharged in the commission of a crime, the defendant may face a mandatory 20 years in prison.
If the gun injures or kills someone, a conviction can result in a sentence of 25 years to life.
When it comes to robbery with a firearm in Florida, for example, if a person displays or shows a gun during a robbery without firing it or harming someone else, then they can face at least 10 years in prison, if convicted. If the gun is fired while the robbery takes place, then the offender faces at least 20 years in prison. Lastly, if robbery with a firearm involves a person getting injured or killed, the offender can face a minimum of 25 years in prison.
Due to the serious nature of a firearm charge and related criminal charges, you should not hesitate to seek the advice of experienced Melbourne firearm crimes attorneys. In some cases, firearm charges are prosecuted in federal court. Our lawyers represent clients charged with firearm crimes in state court, federal court, and appellate court.